Aleppo Pepper chicken is my absolute favorite grilled chicken recipe, super tender and full of fantastic flavor. Plus it's extremely easy to make – 10 minutes of prep, an hour to marinate, and 12 minutes on the grill. If you can't find Aleppo pepper, no worries. You can substitute a mixture of crushed red pepper and paprika and it's equally delicious!
Thick Greek yogurt tenderizes the chicken. A smoky pepper and lemon-garlic combination infuses it with intense bright flavor. Aleppo pepper chicken comes off the grill golden, tender, flavorful, delicious.
This is one of the best chicken dishes I have ever tasted. And it's so easy. Mix some spices with yogurt.  Slice some lemons.  Smash some garlic cloves.  Mix it all together with the chicken.  An hour in the fridge. 12 minutes on the grill. Done!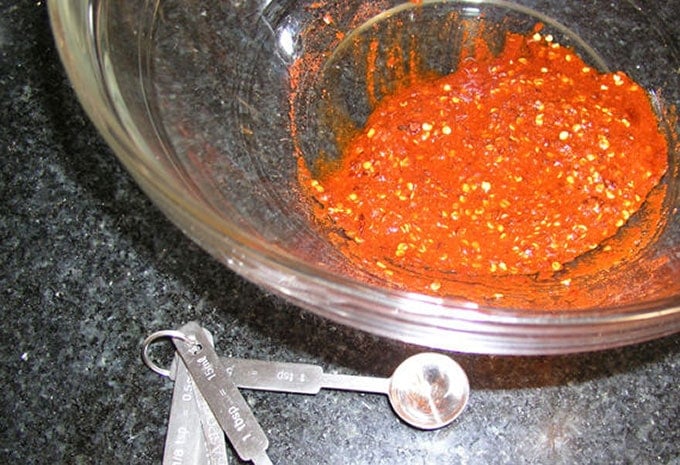 Flattening garlic is a really easy way to get the skin off. Using one hand, hold the clove down against the cutting board with the flat side of a broad knife.  With the heel of your other hand, pound the knife, crunching down on the garlic. When you lift the knife the skin on the clove will be loose and you can just pull it off.
In my quest for understanding the magic of this recipe, I discovered that yogurt is an ideal marinade base for beef and poultry.  Any dairy – yogurt , milk, buttermilk – is an excellent tenderizer, partly because it is not very acidic. Acidic marinades can actually toughen meat.
According to Fine Cooking contributor Shirley Corriher, dairy products are the only marinades that truly tenderize. She goes on to explain that calcium seems to activate enzymes in the meat, causing the proteins to break down. I have to assume all that "breaking-down" makes way for the delicious flavors of pepper, lemon, and garlic to move in.
MORE DELICIOUS RECIPES WITH TENDERIZING YOGURT MARINADE:
The Turks are credited with bringing yogurt to the world. The word "yogurt" comes from the Turkish word "Yogurt." The invention of yogurt likely came about by chance, many centuries ago, in the process of trying to figure out how to store dairy products. Yogurt has always been an important ingredient in Turkish cuisine.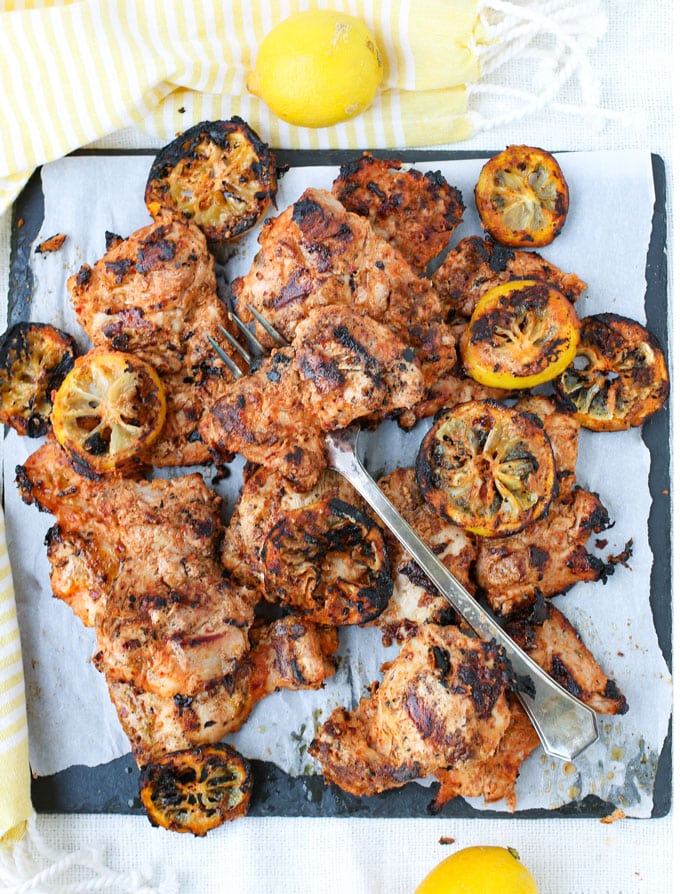 Turkish BBQ often involves threading the meat on a skewer before grilling – the kebab – and serving it with rice. Part of my love for this recipe is the ease of preparing it but if you want a more authentic presentation, you can cut the chicken and thread it onto skewers before grilling.
But don't forget to throw the marinated garlic and lemons on the grill too – they are delicious!
Here's the recipe for Aleppo Pepper Chicken. If you try this recipe I hope you'll come back to leave a rating and a comment. I'd love to know what you think!
Print
Grilled Aleppo Pepper Chicken
The most tender and delicious grilled chicken thighs. Very easy and always a huge crowd pleaser.
Author:
Prep Time:

10 mins

Cook Time:

12 mins

Total Time:

22 mins

Yield:

8 servings

Category:

Main Dish

Method:

Grill

Cuisine:

Turkish
Ingredients
3 tablespoons Aleppo pepper (crushed or flakes) or substitute Maras Pepper, or substitute 4 teaspoons dried crushed red pepper plus 4 teaspoons Hungarian sweet paprika
2 cups plain whole-milk Greek-style yogurt (16 ounces)
4 tablespoons extra-virgin olive oil
2 tablespoons red wine vinegar
4 tablespoons tomato paste
1 tablespoon coarse kosher salt
1/4 teaspoon freshly ground black pepper
10-12 garlic cloves, flattened and skins removed
2 unpeeled lemons, sliced into thin rounds.
4 pounds skinless boneless chicken thighs
Instructions
In a large bowl combine the 3 tablespoons Aleppo pepper with 2 tablespoons warm water. Stir and let sit for 5 minutes for the water to be absorbed. (if using red pepper flakes and paprika, combine 4 teaspoons of each in the bowl with 4 tablespoons warm water)
Add the next six ingredients to the bowl: Yogurt, oil, vinegar, tomato paste, salt, and pepper. Stir thoroughly to combine.
Next mix in the garlic and lemon slices. Add the chicken and stir to fully combine all ingredients.
Cover bowl with plastic wrap and chill for at least an hour (and up to a day)
Preheat the barbecue to medium-high heat. Rub oil over the grates. Sprinkle chicken with salt and pepper. Grill the chicken about 6 minutes per side, or until cooked through.
Serve with grilled lemons and garlic. Enjoy!
Notes
This post was first published on September 26, 2012. It was updated on July 13th, 2018. It's the same delicious recipe with new photos and added nutritional information.
Keywords: chicken, grilled chicken, chicken thighs