This cauliflower casserole is packed with nutritious veggies and just enough sharp cheddar cheese to make it taste decadent.
I'm a big fan of recipes that turn vegetables into crave-worthy comfort food.
If we're being honest, true comfort is knowing that the dish you are enjoying is good for you.
I'm not averse to the occasional indulgence in all-out mac-and-cheese with noodles, creamy béchamel sauce and buttery breadcrumbs. It's one of my favorite splurges. But for the regular dinner rotation, and so we don't have to feel deprived between splurges, it's great to have a healthier alternative in the repertoire. 
Cooked cauliflower is such a great 'mac' substitute, you might need to remind your conscience that you're eating vegetables. And there's no need for breadcrumbs here. The quinoa gets crispy and brown on top when baked.
There's plenty of ultra healthy kale in this cauliflower casserole, which also gets nice and crisp on top, and there's just enough sharp cheddar to achieve a wonderful melted, oozing, cheesy deliciousness.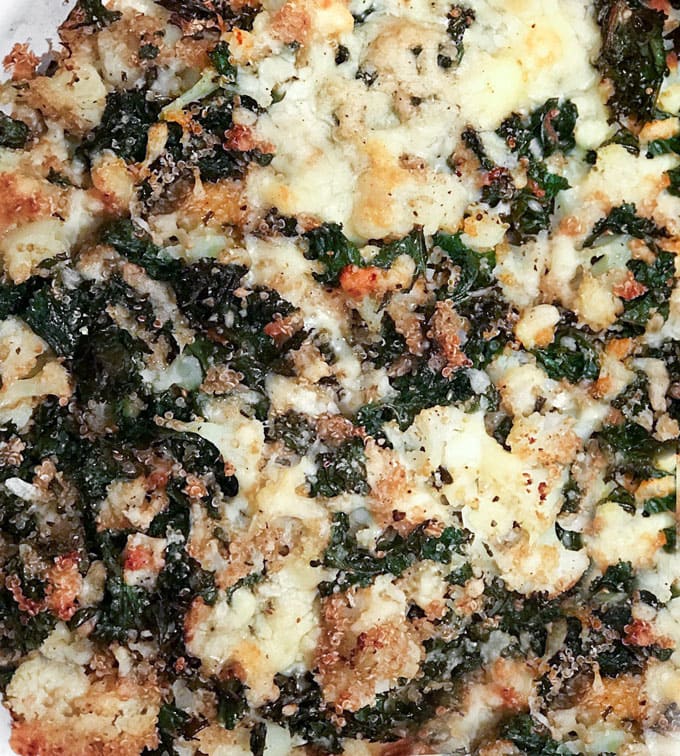 How To Make Cauliflower Casserole with Quinoa Kale and Sharp Cheddar
Cut a head of cauliflower into florets and boil it in the same pot as the quinoa, adding the cauliflower after the quinoa is half-cooked.
Meanwhile, roast a bunch of kale in the oven, until it's softened and crisp on the edges. Toss the veggies and quinoa in with shredded sharp cheddar, milk, mustard, salt and pepper. Pour into a casserole and bake.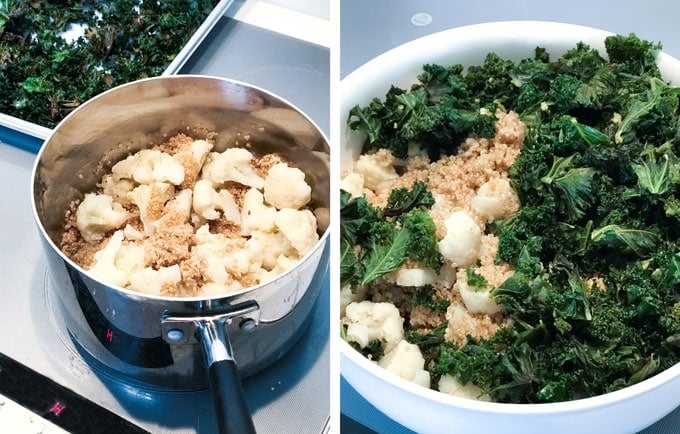 If you boil the cauliflower and quinoa while the kale is roasting in the oven, you can make this whole cauliflower casserole recipe in about an hour.
To prep a day ahead, get all the veggies and quinoa cooked and in an airtight container in the fridge. Wait until right just before baking to toss the quinoa and veggies with cheese, milk, mustard and spices.
I've cooked this cauliflower casserole many times while testing the recipe and ended up with more than we could eat. So I threw a batch in the freezer and was pleased to find out that it reheated beautifully.
If you want to freeze it, I suggest you transfer it to a freezer-friendly plastic container with a tight-fitting lid. To defrost, pop the cauliflower casserole out of the container and place it in a heavy casserole dish. Warm in a 350ºF oven for 30 minutes, or until it's heated through. Tent with foil if it starts to get too brown for your liking.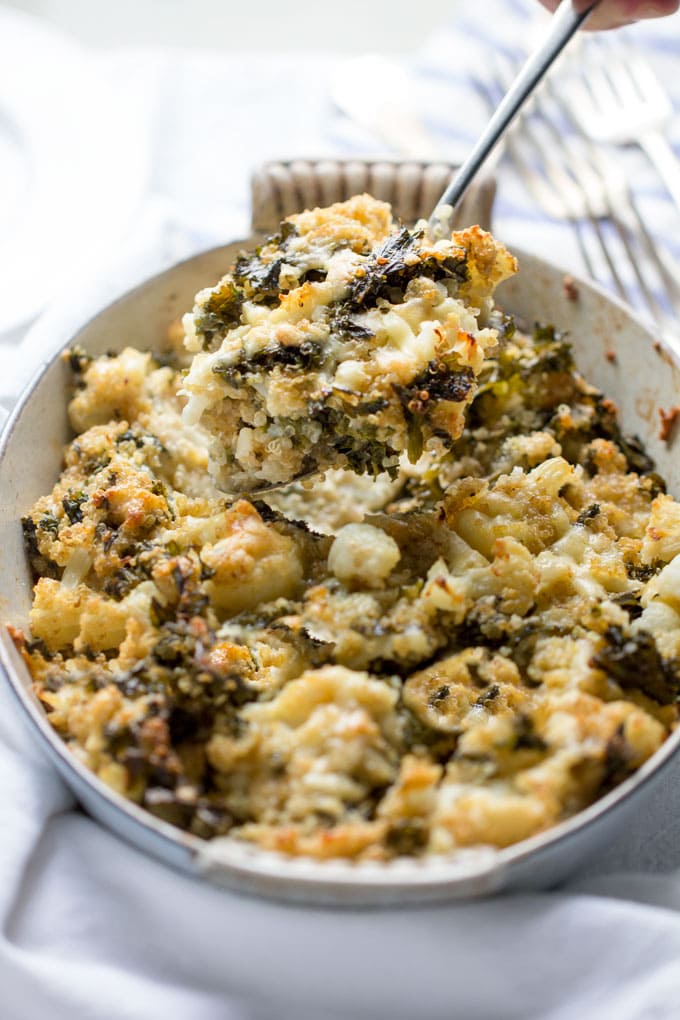 I like to serve this with a simple green salad. It feels like a pasta and salad meal.
Here are a few More Delicious Healthy(ish) Comfort Foods with Lots of Veggies
• No Noodle Eggplant Lasagna
• No-Fry Eggplant Parmesan
• Spaetzle with Caramelized Onions, Wilted Greens and Gruyere
• Roasted Vegetable Lasagna
• My Favorite Vegetarian Chili
I want to tell you about a great resource for casserole recipes called All Free Casserole Recipes. It's a treasury of casserole recipes from across the web. If you're in the mood for a casserole, head on over there and have a look around. You're likely to find the perfect recipe, including a bunch from Panning The Globe 🙂
Here's the recipe for Cauliflower Casserole with Quinoa Kale and Sharp Cheddar. If you try this recipe I hope you'll come back to leave a rating and a comment. I'd love to know what you think.
Print
Cauliflower Casserole with Quinoa Kale and Sharp Cheddar
This cauliflower casserole is packed with nutritious veggies and just enough sharp cheddar cheese to make it taste decadent. [gluten-free and vegetarian]
Author:
Prep Time:

20 mins

Cook Time:

1 hour

Total Time:

1 hour 20 mins

Yield:

6-8

Category:

lunch, dinner

Cuisine:

American
Ingredients
1 large bunch of kale, either curly kale or dinosaur kale
1 tablespoon extra virgin olive oil
1 cup quinoa, rinsed and drained
1 medium sized head of cauliflower cut into bite-sized florets
8 ounces shredded extra sharp cheddar cheese
1/2 cup whole milk
2 teaspoons dijon mustard (such as Grey Poupon)
1 teaspoon coarse salt plus more, to taste
1/2 teaspoon freshly ground black pepper plus more, to taste
1 teaspoon onion powder, optional
Instructions
Preheat oven to 375ºF. Pull the kale leaves off the thick stems and tear them into bite sized pieces, rinse leaves, spin or pat dry (they don't have to be completely dry) and spread kale leaves out on a large rimmed baking sheet. Drizzle olive oil over kale and use your hand to massage the oil into the leaves. Roast kale in the center of the oven for 15-20 minutes, tossing after ten minutes, until tender and crisp on the edges. Set aside.
While the kale is roasting, put the quinoa in a large saucepan (large enough to hold all the cauliflower too) and add cold water so the pot is about 2/3 of the way filled. Turn the heat to high. Once boiling, turn the heat down to a gentle boil and set the timer for 7 minutes. When the timer goes off, add the cauliflower florets and once again turn the heat to high. Set the timer again for 7 minutes. Drain the quinoa and cauliflower and transfer to a large mixing bowl. Add roasted kale and toss. Add most of the cheese, setting aside a handful to sprinkle on top. Add the milk, mustard, 1 teaspoon of salt or to taste, 1/2 teaspoon of black pepper or to taste, and onion powder, if using. Toss well to combine.
Turn the oven down to 350ºF. Transfer the mixture to a 2-quart casserole. Sprinkle with remaining cheese. Bake in upper third of the oven for 30 minutes or until the top is golden brown and crisp in spots. If you like the top to be extra crisp and brown, turn on the broiler for a minute or two, watching carefully to prevent burning.
Serve hot.